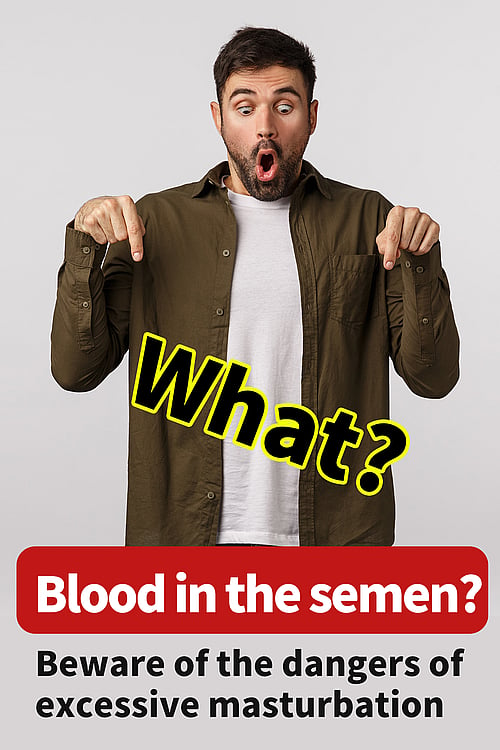 According to the renowned "sexpert" Dr. NK Lin, one of the conditions that occur among young adults who experience a
bloody ejaculation
is an underproduction of the hormones prostaglandin E1 and E3, which both inhibit the enzyme cyclooxygenase-1. This cripples your body's capacity to protect, heal and repair peripheral blood vessels after intensive or long-term abusive masturbation.
Obviously, blood in semen can be attributed to any number of serious causes, and medical attention is mandatory. Once you're out of the woods of any serious related danger, it's time to consider that over masturbation may be the culprit behind the unsettling appearance of blood, and what's to be done about it.

Understanding The Blood Results
While repairing the blood vessels, the body produces an excessive amount of the inflammatory hormone prostaglandin E2, which causes an over expression of the enzyme COX-2. The excess amount of prostaglandin E2 leads to inflammation, pain and bleeding while excess COX-2 in the tissue leads to abrasive bleeding during an ejaculation.
Areas prostaglandin E2 affects include:
Bladder
Prostate Gland
Epididymis
Testicles
Urethra
Seminal Vesicles
Herbs from
Powerful Prostate Care Supplements For Active Lifestyle
provide the nutrients for your prostate recovery, healing, and care. These herbs have various phytochemicals that are known for their anti-inflammatory effects on the prostate, help to dissolve the scar tissues, prevent further bleeding and damages.
[More Details +]
Images & contents may be subject to copyright • Report this image
More Like This