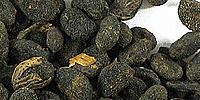 Native to west Asia, Psoralea "fruit" is grown in Iran, India, China, and other Asian locales. It is the dried ripe seed of the herb Psoralea corylifolia (from the Leguminosae/Fabaceae family). The plant requires moist soil and cannot thrive in shady areas. It grows to be about two feet high. Its flowers are cosexual and are pollinated by insects. In China, it is harvested in autumn when the seed is ripe. It is dried in the sun and used unprepared or stir-baked with salt water. It has a bitter taste and is valued by herbal medicine practitioners as a vitality tonic and remedy to improve general health.

Recent research indicates that Psoralea fruit is also of value in the treatment of skin disorders like vitiligo as the seed contains the natural compound, psoralen. This causes the skin to produce new pigment when exposed to sunlight, making it particularly helpful in treating psoriasis. Psoralea fruit is believed to be of many benefits; it is highly regarded as an aphrodisiac and sexual tonic. The root is used in dental practices for treating tooth decay. Extracted from the plant is a medicinal oleoresin that allegedly treats kidney disorders, impotence, and premature ejaculation. When taken orally, it may treat diarrhea and lower back pain. It is also used for frequent urination, bed-wetting, and incontinence.

Psoralea seeds carry numerous amino acids and flavonoids and contain small amounts of potassium, selenium, calcium, and iron. These ingredients make it a potent agent capable of addressing such a wide variety of conditions. It's even used in formulas like the Female Orgasm Intensifier Tincture to enhance a woman's sexual experience. Additionally, it's considered to be an excellent herbal tonic that allegedly improves the spirit and drive of any person.
[More Details +]
Images & contents may be subject to copyright • Report this image
More Like This