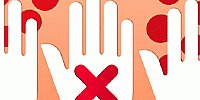 Acne affects every teenage boy and girl. Caused by puberty, sweat, makeup or stress, acne remains an annoyance that the faces of every man and women combats. Sadly, acne is something that others will judge you upon, and the majority of people who have experienced heavy acne scars and outbreaks wish cure it—for good.

The problem is most soaps and topical creams only treat the surface of the skin--not the causes.
How Over Masturbation Causes Acne
Finding Help
Herbal formula cures the root of the acne problem—the hormonal imbalance. It aids in clearing current acne and blocked pores while helping to prevent future acne from appearing. The natural herbs eliminate skin redness, red spots and flushing.
Herbs inside the formula, such as Bupleurum, work as an anti-inflammatory ingredients to reduce redness while improving liver function to remove toxins from the skin and glands. Other ingredients, such as Carthamus Tinctorius and Salvia improve blood circulation, while Mexican Wild Yam, Dong Quail and Fo Ti aid prevent excessive production of stress hormones that cause breakouts.
[More Details +]
Images & contents may be subject to copyright • Report this image
More Like This