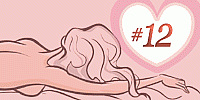 Sex-tructions
Rigor mortis may set into your legs during this position, but soon, the stiffness will shift to where it matters most. Twist-Her may prove difficult for some males, especially for extended periods. But with the female facing down and her legs extended, males will bend their knees and position themselves underneath the woman's legs. Once in position, males will slide their penises inward. So gentlemen, if you skip leg day at the gym, you'll be paying for it here in this position.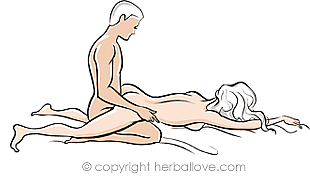 Why She'll Love It:
Once he penetrates, lean forward. The angle will ensure he stimulates your G-spot and your clitoris. And when he grabs your buttock, the pleasure factor should increase, especially for him. If you want a bit more pleasure, have him stick his finger inside your buttock for ultimate pleasure while he thrusts up and down.

Why He'll Love It:
From your angle, you'll be able to see your penis moving in and out of the vagina. Each thrust will expose an angle of penetration your not used to, and if you're large and in charge, you'll be sure to make her moan and scream multiple times from this position.


About This Position:
Sex Position Number: 12
Difficulty: Experienced Couples
Pleasure for Him: High
Pleasure for Her: Medium
Not Suitable For: Males with Weak Erections
Other positions you may like: Head-Ache
Ideal Penis Size: 5 inches +
Stamina Required: High
Flexibility Required: Medium
[More Details +]
Images & contents may be subject to copyright • Report this image
More Like This