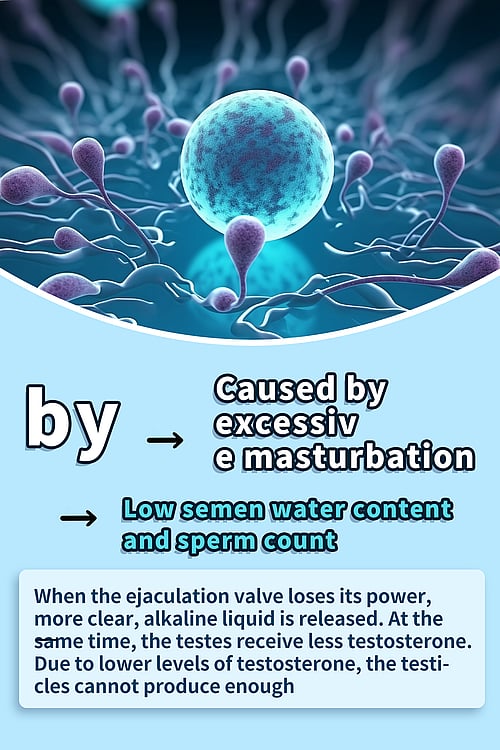 Watery Semen and Low Sperm Count- Caused by Over Masturbation
Dozens of males email the Herballove editorial team with questions about their sperm-related problems. Some notice discoloration; others, funny smells. Whether it's the smell or the look, the health of your sperm depends on three factors: age, diet and ejaculation frequency. Older males tend to notice a decrease in semen production, while younger men with poor diets experience discoloration and awkward smells. But it's the men who over masturbate that experience the least common issue: watery semen.
Low and Watery
From testosterone and nitric oxide to dopamine and serotonin, the body requires neurochemicals to help keep the sex drive alive. Each time a man ejaculates, the body loses a small portion of these chemicals. Over masturbation causes a huge loss in testosterone, HGH, DHEA and prostaglandin E1 and E3, chemicals essential to proper sperm production.
During hormonal imbalances, the testicles cannot gain enough nutrients because of damaged liver production, while the prostate cannot produce enough sperm and the white, alkaline liquid for sperm to swim in.
Why so Watery?
The watery residue is due to an increase in the prostate's production of the clear, alkaline liquid. Each time you ejaculate, your body losses a portion of neurochemicals while the ejaculatory duct weakens. When the ejaculatory duct, also known as the ejaculatory valve, loses its strength, more of the clear, alkaline liquid is released. Meanwhile, the testicles receive a lower amount of testosterone. With testosterone levels lowered, the testicles cannot produce enough semen. Instead, the prostate still exudes its portion of the clear liquid, but the testicles cannot provide its share of semen production. The outcome causes your ejaculations to look watery.
Improving Sperm Potency
The body needs a rest from sex and masturbation. Next, try
Natural Ways To Increase Male Fertility & Semen Volume
that helps improve testosterone, nitric oxide, HGH while balancing pH levels to restore healthy semen and to strength the ejaculatory valve. Thanks to ingredients such as Mucuna pruniens, Cistanche and Saw Palmetto, men can experience an improvement in their semen health and a reduction in precum.
[More Details +]
Images & contents may be subject to copyright • Report this image • Credit: Herballove
More Like This