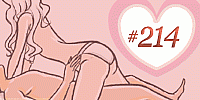 The angle of his "dangle" changes from man to man. But this is one position where you'll always know where his dangle is pointed. So for couples looking for a deep, intimate position, Angle of His Dangle will place females at a 45-degree angle for an alluring sex position.

Men will lie on their backs. Women will climb on top and position themselves at a 45-degree angle from the man's shoulders. Once in place, ladies will achieve penetration and extend their legs back, ensuring to intertwine one leg with the man's.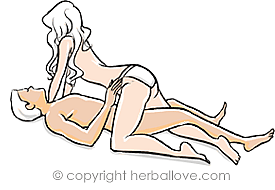 Why She'll Love It:
During penetration, you will have noticed the placement of your pubic bone. From this position, each thrust will generate pressure against your clitoris to increase your chances of reaching an orgasm.

The complimentary eye contact, meanwhile, will allow you to enjoy the closeness this position creates.

Why He'll Love It:
You may be a hopeless romantic, yearning for a reason to express those sweet sayings. Angle of His Dangle will give you the perfect opportunity to express these emotions. Tell her you love her. Tell her how special she is. Or talk dirty to her. The choice is yours.

About This Position
Sex Position Number: 214
Difficulty: Experienced
Pleasure for Him: Medium
Pleasure for Her: Medium
Not Suitable For: Clitoris Insensitivity
Other Positions You May Like: One-Stop Shop
Ideal Penis Size: 5 inches +
Stamina Required: Low
Flexibility Required: Low
[More Details +]
Images & contents may be subject to copyright • Report this image
More Like This