Ladies, this is an All-You-Can-Eat Buffet of sausage and eggs. Don't worry if you don't eat meat or animal byproducts, this is an all-vegetarian, vegan-conscious meal that alleviates stress. Men, you'll need to cook up a solid sausage; raw, soft meat can be a dangerous choice. Once the meal is cooked, ladies can enjoy this All-You-Can-Eat Buffet.

Why She'll Love It: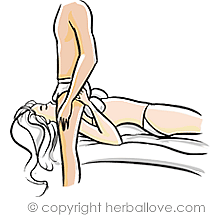 You're used to giving him fellatio. You're not used to this positioning. From here, you'll adore testicles, an area you may not stimulate as much as he wants. With his testicles and penis in full view, you'll have the chance to provide him with dual stimulation.

Why He'll Love It:
Your testicles remain neglected during fellatio. Sure, your penis gets attention—plenty of it. But your testicles, man, do your two fellas get neglected. They get no attention, except for an occasional squeeze or two. Well, this position changes things. Your testicles will be the main attraction, so stand tall and enjoy.

About This Position
Sex Position Number: 284
Difficulty: Novice
Pleasure for Him: High
Pleasure for Her: Low
Not Suitable For: Testicular Pain
Other Positions You May Like: Medusa's Gaze
Ideal Penis Size: N/A
Stamina Required: Low
Flexibility Required: Low
[More Details +]
Images & contents may be subject to copyright • Report this image
More Like This